All hands on deck the Commies (mafioso) or the Athiests (werewolves) are coming to steal christmas and deprive western civilization of all joy. We must protect the sanctity of our religious holiday hijacked from paganism and polytheism and safeguard capitalism from those who don't encourage excessive consumerism.
Seer = Preacher
Cop = J Edgar Hoover
Vanilla Town = Supplicant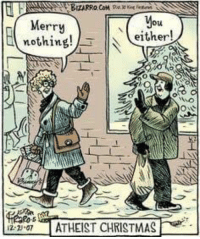 Rules
Day 1 will be 48 hours so ending midnight 12/25 EST or when majority is reached
Majority day 1 is 4
Bad guys do not have day chat but do know their partner at game start
Seer/Preacher receives results as Athiest/Not Atheist
Hoover receives results as Commie/Not Commie
Alive Players
@DiendaMahdik
@electrowizard
@bazingaboy
@jdance
@KrazyKat
@LuckyArtist
@magicmagininja
Good luck have fun!