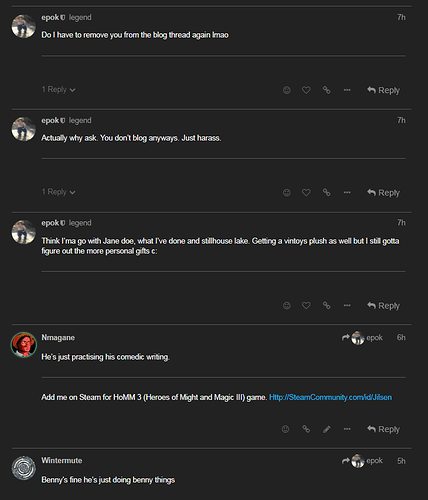 Dan Epoch (visibly fumbled) starts to show insecurity about his gift purchases (What? He was insecure about them? That's even worse!
"Well I'm getting a plushie as well hahaha. A murder rom-com and a plushie.
Various people begin to look at each other in silent disbelief
"Well I'll get her something personal too! I've already window shopped a plushie and an unintellectual book. It would be unwise to reward my girlfriend with actual intellectual stimulation (Kant, Infinite Jest) otherwise she may become all the wiser and leave me!"
-Silent frustration begins to emerge amongst
-Dan's previous peers
Now Sweating: "Well something personal too! They say the best gifts don't cost any money hahaha (That's Nietzche) (But my sexual activity definitely isn't enough for Margaret and I don't possess the writing prowess to write a poem)
-Hm Yes? Are you done? Some people here are trying to blog about actual events in their life instead of worthless trite(a member inquires)-
What? What? I'm window shopping a present for my girlfriend. This IS blogging!
Finish