The gist is to produce something along the lines of: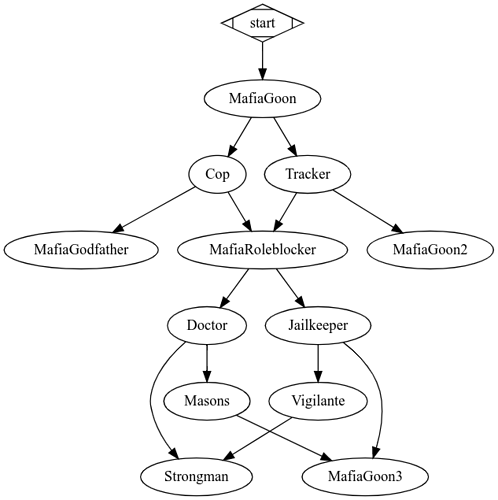 At each node within the tree, randomly choose a child to follow: that PR/element is within your game. Define subgraphs to enclose certain portions of the tree, corresponding to the amount of players within the game.
Creating a "balanced" structure (lol) will take some time, but this is obviously a novel development in mafia setups.
https://dreampuf.github.io/GraphvizOnline/#digraph%20G%20{ %20%20start%20->%20MafiaGoon%3B %20%20MafiaGoon%20->%20Tracker%3B %20%20MafiaGoon%20->%20Cop%3B %20%20 %20%20Cop%20->%20MafiaGodfather %20%20Cop%20->%20MafiaRoleblocker%3B %20%20 %20%20Tracker%20->%20MafiaRoleblocker %20%20Tracker%20->%20MafiaGoon2 %20%20 %20%20MafiaRoleblocker%20->Doctor%3B %20%20MafiaRoleblocker%20->Jailkeeper%3B %20%20 %20%20Jailkeeper%20->%20Vigilante%20->Strongman %20%20Jailkeeper%20->%20MafiaGoon3 %20%20Doctor%20->Masons%3B %20%20Doctor%20->Strongman %20%20Masons%20->%20MafiaGoon3 %20%20 %20%20start%20[shape%3DMdiamond]%3B }