You're not reading into this enough
As part of the arrangement for our superfun music fest party weekend together i've given jones veto power and right of first refusal for all third parties. I've submitted your applications to him so we will just have to wait and see.
godspeed.
on an unrelated note, anyone got a ketamine plug in alabama?
I'll bring some 4 aco dmt
In my mind. It's imaginary, of course
Alabama? What the fuck…
Why are you going there? Please don't say to visit family.
Because Jones is agoraphobic and we must bring the party to him
my oldest acc was in 2012 actually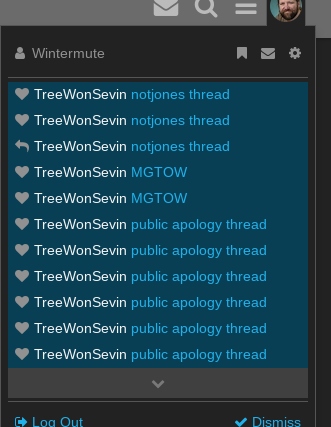 ?
sorry i like a post if i read it, i might make an apology later
they can manually fiddle with the numbers but you should know it's not just likes
you probably have to convince people to "like" your posts
something I have been struggling with for many, many years
idk what you are trying to say, i'm just liking the posts if i read them
i can make threads and post wherever so what perms am i missing?
I think you need level 2 to read "The Lounge"
sounds like that isn't worth reading